Serial
bus
+
Intelligent
Servo
Acceleration start and stop

The servo starts and stops by acceleration, so that the equipment will not regenerate hard, reduce the impact force caused by inertia, Extended service life.

Multi circle and large angle design

Breaking through the single turn limit of traditional servo, the multi turn flexible and accurate control is simple in design and more widely used.

It can be installed at any angle

When FEETECH servo is installed on the equipment, it does not need to find the middle position. After installation, it is compensated to the middle position through position correction.

Closed loop feedback, real-time protection

With parameter feedback of temperature, speed, position, voltage, load, current , when the environment changes, such as torque, locked rotor, temperature over limit, it will start the unloading protection.

Open PID parameter debugging

PID is an important parameter in the control system, corresponding to proportional integral and differential, the speed of proportional start-up regulation is fast and slow, integral plays a filtering role, differential plays an accelerating role.

Multiple working modes

SM series has position control mode, constant speed motor mode and PWM motor mode; SCS series has position control mode and motor mode.

Serial bus connection

Serial bus connection can realize simple wiring structure, less port occupation, reduced failure rate, fast response speed and communication baud rate up to 1Mbps.

Professional engineering team docking

The project development is assisted by a professional engineering team to provide servo 3D drawings, communication protocol and library code. The servo can be customized according to the requirements. We will use our expertise to solve your problems and improve the development efficiency of the project.
We are a professional servo manufacturer
Our service advantages
1. The whole process of technical support, engineers docking to shorten the project R & D cycle;
2. Provide communication protocol and code base to complete protocol collusion faster;
3. Provide servo 3D drawings to build structural model faster;
4. Professional servo production line , strict control of production quality, factory package inspection;
5. Upgrade the servo firmware irregularly;
6. The servos had passed the CE and ROHS certification, and the export inspection has passed smoothly;
7. Perfect after-sales service to solve the worries.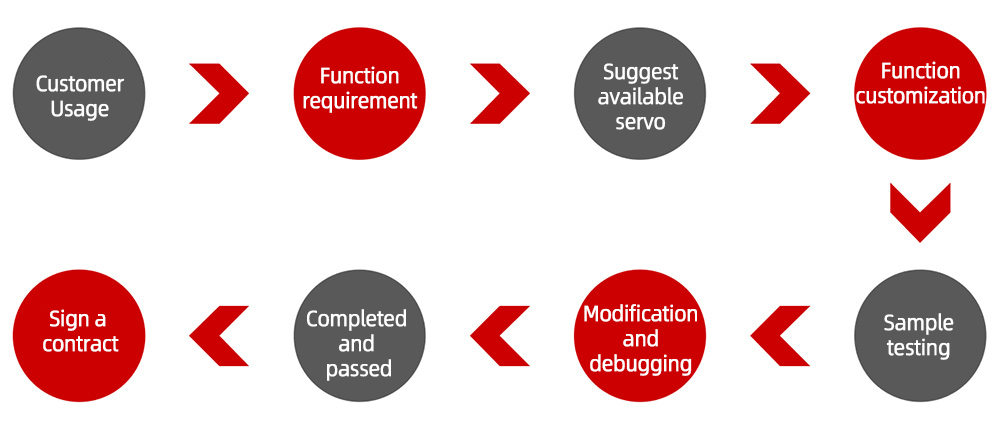 Feite bus servo electronic function summary table
Intelligent servo is a kind of DC servo motor, which is widely praised by project engineers due to its small size, large torque, high precision, easy operation and other characteristics. Compared with the traditional servo, the intelligent servo has strict requirements in terms of material control, structure design, gear ratio, electronic control, software algorithm, etc., to ensure that it can realize more functions in a small volume. After 7 years of research and development, combined with the experience of hundreds of projects, FEETECH servo has optimized the material use, structural electronic design and software algorithm. The results show that the integrated performance of feetech servo is the best in stability, functional controllability and so on.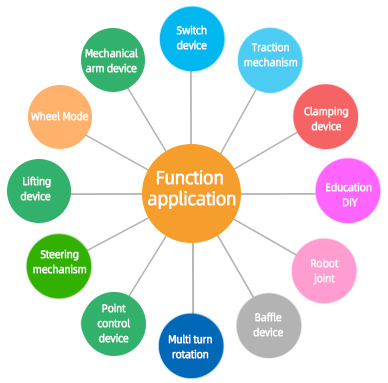 Application